Book Signing
June 17, 2017 @ 1:00 pm

-

3:00 pm
Event Navigation
Babe Ruth Book Author to Launch New Book on Saturday, June 17, 2017 at Babe Ruth Birthplace Museum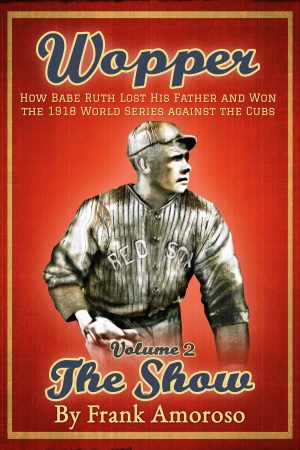 Author Frank Amoroso announces the release of The Show, Volume 2 of the 3-part historical novel Wopper – How Babe Ruth Lost His Father and Won the 1918 World Series Against the Cubs.  Volume 1, Pigtown, was launched in February at a celebration of the anniversary of Babe Ruth's birthday.  The Show will be launched on June 17th with a talk beginning at 1:00pm in the Museum's Bullpen.  Admission to Museum & Talk is $10 for Adults & $5 for children.  Both volumes will be on sale in the Gift Shop & Frank will be signing after the talk.
In The Show, Mr. Amoroso picks up the story from Pigtown, Volume 1 at the point where "Jidgie" Ruth struggles to choose between his two loves – baseball and Colina, the dashing tomboy and member of the Bunny Hole gang.  As Jidgie embarks on a baseball career, he acquires the nickname Babe and dazzles the baseball world with his baseball talent. Within months, the young, unsophisticated Babe finds himself thrust into a pennant race playing for the Boston Red Sox.
On his journey, Babe shares adventures with special characters such as the celebrated opera singer Enrico Caruso, "Rough" Carrigan, and Yo-na, a Cherokee Indian who saves his life. The action is set amidst war hysteria and a rising tide of anti-German sentiment.  The Show incorporates world events from the tragedy-filled years 1914-1918.  Following the young Babe through triumph, tragedy, and loss, The Show depicts the making of the legend. This novel is fast-paced and filled with baseball history. It climaxes with a bar brawl that impacts Babe profoundly and leaves the reader craving more.  Volume 3, The Series, will be released this fall.
In honor of Babe's real, surrogate, and imagined fathers, The Show will be launched on Father's Day weekend at the historic Babe Ruth Birthplace Museum in Baltimore, Maryland.  The public is welcome to hear Mr. Amoroso's entertaining presentation about his Wopper series while he introduces this exciting second installment of his Ruthian epic.
Frank Amoroso has had a lifelong love affair with the game of baseball. As a lefty pitcher like his favorite player, Frank has lived the sentiment of Babe Ruth, who famously said, "Baseball was, is and, always will be, to me the best game in the world."