Support The Babe Ruth Birthplace Foundation
For over forty years, the Babe Ruth Birthplace Foundation has been committed to preserving, interpreting and celebrating our state's sports heritage.  We have welcomed millions of visitors, launched exciting educational programs, expanded the collection and become a leader in the field of sports heritage.  Babe Ruth's Birthplace is celebrated as a national treasure.
But the work of preservation and education never ends.  Like in sports, 2016 was a rebuilding year for us.  Over the past year we anguished over the loss of Sports Legends but celebrated the full renovation of the Babe Ruth Birthplace. We welcomed Hall of Famer Eddie Murray and introduced his "Round Tripper" wine and enjoyed the continued success of our Birthday Bash and Opening Day Block parties.  Thousands of visitors marveled over the Birthplace and all its historic treasurers.  Parts of our Sports Legends collection were featured in new displays at Baltimore's Center Club and at Oriole Park.
Your support makes these efforts, and many others, possible.  Your tax-deductible gift is extremely important because it allows us to continue to preserve and interpret our important sports heritage.
Thank you so much for your help.  
The Babe Ruth Birthplace Foundation, Inc. is an independent, not-for-profit educational institution dedicated to perpetuating the historic legacy of Babe Ruth, Baltimore's Orioles and Colts, and local and regional sports at the amateur, collegiate and professional levels, by preserving, exhibiting, interpreting and augmenting its collections for a diverse audience. The Babe Ruth Birthplace Foundation relies on community support to sustain its programs, activities, and operations, and welcomes contributions and grants from individuals, families, foundations, and corporations.
---
Contributions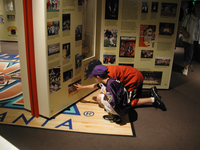 The Babe Ruth Museum
Attn: Contributions
216 Emory Street
Baltimore, MD 21230
For more information on making a contribution, or to inquire about corporate sponsorship opportunities, please contact Shawn Herne, Deputy Director.
---
Membership
To learn more about becoming a member of the Babe Ruth Birthplace Museum, click HERE.
---
Donate to the Museum's Collection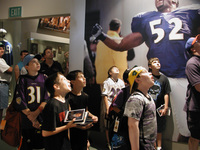 The Babe Ruth Museum collects game-used equipment and ephemera related to Babe Ruth, the Baltimore Orioles, the Baltimore Colts and Ravens, Johnny Unitas, the Baltimore Blast, Memorial Stadium and other sports entities in the state of Maryland. Our collection of artifacts, photographs and archival material is a result of generous donations by athletes, teams, collectors and fans. The Babe Ruth Museum welcomes donations of items related to our mission.
For more information, please contact our director: