Rates
The Babe Ruth Birthplace Museum offers tour packages to groups of 15 or more. To schedule your group tour, please call at 410-727-1539, ext. 3033.
Adults $4.00 / Seniors $4.00 / Students** $3.00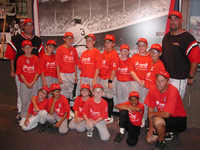 ** Students through grade 12
Non-refundable 50% deposit must be paid in full within two weeks of receipt of tour confirmation. Reservations are not guaranteed until deposit payment is received. (Remaining balance is due at the time of tour). If tour is canceled, deposit can be applied toward future reservation if booked within one year. Tour Operator and Receptive Rates available upon request.
---